Philip Caputo's New
Novel Arises from His
Daredevil Journalism
April 18, 2017
PHILIP CAPUTO THRIVES ON DANGER. As a war correspondent for the Chicago Tribune he covered the fall of Saigon in 1975 and was later wounded in Lebanon and held prisoner by Palestinian fighters. In 1977, at the age of 36, he established his career as an author with his best-selling book A Rumor of War, a memoir of his experiences as a U.S. Marine in Vietnam. His novel Horn of Africa (1980) is set in Ethiopia; his book of three novellas Exiles (1997) partly in Australia; and Acts of Faith (2005) in Sudan. Caputo's new novel and sixteenth book, Some Rise by Sin—which Henry Holt and Company published May 9—takes place in Mexico and derives from his reporting on the country's narco gangs.
Caputo is drawn to conflict zones, but his novels are more character-driven than propelled by plot. Some Rise by Sin tells the story of a middle-aged American priest exiled to a remote town in Mexico after his tangential involvement in a church scandal in Los Angeles. A brutal, pseudo-religious drug gang is terrorizing the Mexican village, and the priest—a tough man of tested faith wracked by his own memories and desires—is faced with the moral and spiritual quandary of whether to betray his vows to fight the criminals.
Some Rise by Sin includes two characters who originally appeared in Caputo's 2009 novel Crossers, which likewise took place in the border territory between Arizona and Mexico. Although Some Rise by Sin picks up the story of those two characters 10 years later, they are not main characters in either book. The new novel is "loosely related to Crossers, in that two characters from that book reappear in Some Rise By Sin, but it's not a sequel," Caputo told Moresby Press.
He explained how his new novel grew from his work as a journalist. "I did two stories on the Mexican drug wars and related border issues," Caputo said. "One was in 2007 for The Virginia Quarterly Review, the other in 2009 for The Atlantic. The latter assignment, which took me into Juarez and deep into the state of Chihuahua, gave me the inspiration for Some Rise By Sin. My translator and assistant told me a story about a Catholic priest who'd become a snitch for the Mexican Federal Police by revealing the confessions he heard from drug traffickers. In that tale, the priest was Mexican and had turned informant for venal motives. For the purposes of my novel, I created an American missionary priest who violates the seal of the confessional for altruistic reasons."
Beating Brutality through
Sacrifice, Redemption
April 28, 2017
"THIS BEAUTIFUL, SORROWFUL, BLOOD-SPOTTED COUNTRY" is how Philip Caputo describes Mexico in his new novel Some Rise by Sin, a tale of downtrodden people trying to survive and redeem themselves under the crushing forces of poverty and drug-gang violence. Henry Holt and Company published the book May 9.
The novel's protagonist, an exiled American priest named Father Timothy Riordan, is assigned to a church in the rural Mexican town of San Patricio, where two young men have been shot dead by soldiers during a peaceful protest. Riordan is asked to approach a brutal local military captain and ask for an apology. The priest finds himself recruited into the role of peace broker between the townspeople and the army—and is then forced to become an informer, undergoing his own crisis of conscience and faith as he breaks the seal of the confessional to pass along tips that might help the army and police fight a sinister drug gang called The Brotherhood.
Riordan, a gray-haired, Harley-riding missionary who is strong but compassionate, is an interesting if not necessarily compelling character—though by the end of the book he is certainly memorable. In Caputo's last two novels, this one and Crossers (2009), which also took place in the border area between Mexico and the United States (Caputo himself lives in Patagonia, Ariz., four months a year), the secondary characters are sometimes more interesting than the protagonists. Two characters from Crossers reappear in Some Rise by Sin: a gay drug lord, and a cop and sometimes-assassin for the drug bosses who has synesthesia and can see sounds and hear colors. In the new novel, a subplot involving an expat American doctor—a lesbian named Lisette—feels incongruous and obligatory.
In his last couple of novels, Caputo repeats variations on character types: Crossers had a middle-aged woman with a gay, young-adult son; Some Rise by Sin includes a middle-aged, gay woman with a straight, young-adult son. Both books have as secondary characters beautiful, artistic middle-aged women from wealthy American families who, despite their privilege, somehow wind up with crooked teeth. Crossers features a rich, milquetoast Manhattanite who comes to the rescue of his uneducated and cash-strapped Arizona rancher cousin; while Some Rise by Sin sees an American priest and doctor saving inhabitants of backward Mexican villages.
Caputo is a fluid storyteller who knows how to create evocative descriptions and keep the reader turning pages, but dialogue is not always his strong suit. Some of the characters feel unconvincing because their dialogue sounds unnatural—their words often serving to deliver exposition rather than help develop believable personas. Like the expository dialogue, story points are often stated overtly when they would be better left implied, such as "it seemed like a macabre warning."
The author has an occasional habit of presenting cliched images and then trying to excuse them with lines like "He was right out of central casting," or "It was like a scene from The Godfather," which only remind readers that they've seen such things before. Also off-putting is his tendency to write sentences in Spanish and then translate them into English. Why not settle on one or the other? Offering further evidence of indecisiveness, it sometimes seems that Caputo can't decide if he wants to be a literary novelist or a commercial thriller writer; his books contain somewhat uneasy, if admittedly entertaining, combinations of both.
By the end of Some Rise by Sin, however, we know that we're in the hands of a masterful craftsman and sympathetic observer of human suffering, as well as a journalist who has done the hard reporting that allows him to tell such rich and well informed stories.
___
Mondo Cozmo Refreshes
Rock with Hopeful 'Shine'
April 5, 2017
"MY FRIENDS ARE SO ALONE and it breaks my heart / My friends don't understand we all are lost," Josh Ostrander, aka Mondo Cozmo, sings in his moving new single "Shine." Despite the sadness of those words, the tune is an anthem of hope with its chorus "Let 'em get high / Let 'em get stoned / Everything will be all right if you let it go." The sentiment can be taken literally or as metaphor; either way, the song acknowledges our pain and then blasts it away through musical catharsis.
"Shine" follows a simple chord progression transposed into magical territory by clamping a capo on the fourth fret of Ostrander's acoustic guitar—and by his soulful lyrics, melody and voice as he sings: "Stick with me Jesus through the coming storm / I've come to you in search of something I have lost. Shine down a light on me and show a path / I promise you I will return if you take me back."
___
Sidney Lumet's
Moral Direction
Jan. 6, 2017
"I'M NOT DIRECTING THE MORAL MESSAGE," the filmmaker says in American Masters: By Sidney Lumet, on PBS. "I'm directing that piece of the people, and if I do it well, the moral message will come through."
Subtly or otherwise, a moral sense pervades the prolific director's 44 movies in 50 years—starting with 12 Angry Men in 1957, until his last film, Before the Devil Knows You're Dead, in 2007. In between, Lumet gave us Fail-Safe, Serpico, Dog Day Afternoon, Network, Prince of the City, The Verdict and many other pictures, at a rate of nearly one per year. As he explains early in the PBS documentary, an experience he had as a young soldier in World War II, when he witnessed a 12-year-old Indian girl near Calcutta being gang-raped by American G.I.'s on a train but did not intervene, instilled in him a lifelong desire to fight injustice. Lumet, who grew up "dirt poor" on Manhattan's Lower East Side during the Great Depression, says his films all share the bedrock concern: "Is it fair?"
"I love characters who are rebels," he says, "because not accepting the status quo, not accepting the way it's always been done, not accepting that this is the way it has to be, is the fundamental area of human progress—and drama, God knows." The other perennial source of drama is family, he says.
Lumet, who died in 2011 at the age of 86, three years after filming the interview, never received an Academy Award for Best Director. He was awarded an honorary Oscar in 2005.
___
Neruda Explores Borders of
Art and Reality
Dec. 30, 2016
"AM I FICTION?" the detective who is chasing Chilean poet Pablo Neruda asks in Neruda, the intriguing new film from director Pablo Larrain. In fact, the policeman played by Gael Garcia Bernal (above) is invented for the movie—not just as a plot device in a game of cat-and-mouse down the length of the slender South American country, but to symbolize real and imagined persecutors of leftists who "like to play the victim," as another character in the film puts its.
Nobel Prize-winning poet Ricardo Eliecer Neftali Reyes Basoalto, who went by the pen name Pablo Neruda, after the Czech poet Jan Neruda, was also a diplomat and politician in Chile. When the country outlawed communism in 1948, Neruda—played in the film by Luis Gnecco—was forced into hiding, as other members of the party were arrested. (In the movie, a prison camp in the harsh Atacama Desert in northern Chile is run by Augusto Pinochet, who would later become dictator of the country after a coup d'etat against democratically elected socialist president Salvador Allende in 1973.)
A reflection of Neruda's writing style, which sometimes ventured into surrealism, the film toys with the relationship between reality and illusion, including the suggestion that the pampered, hedonistic poet perhaps wasn't suited to speak for the country's impoverished masses.
As the story unfolds, the beautifully shot film moves from the urban sophistication of Santiago to the port city of Valparaiso, and then south to Chile's Lake District—a landscape of mountains and cloud-shrouded pine forests—and the snows of the country's southern reaches, where the dogged policeman, by now obsessed as much with trying to prove his own existence and worth as with apprehending Neruda, concludes his journey. Like a "second sea," the Andes Mountains separate Chile from Argentina, where the poet eventually finds exile, supported by Pablo Picasso and other artists in Paris.
___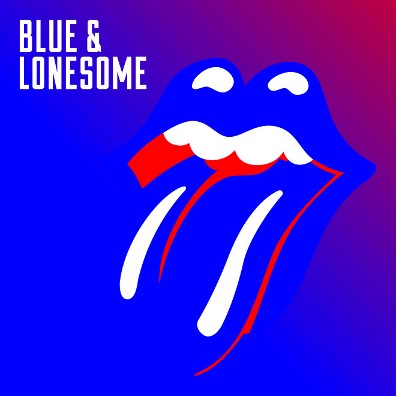 The Stones Roll Back
into Chicago Blues
Dec. 27, 2016
IT MIGHT BE TEMPTING to dismiss Blue & Lonesome, the Rolling Stones' new CD of blues cover versions, as minimal effort expended for maximum gain. After all, its 12 songs were all written by Chicago bluesmen in the 1950s, '60s and '70s, not by the Stones, and the band recorded the entire album in just three days, with no overdubs (the title track was done in one take). But with these raw, unpolished recordings, the Stones sound the most sincere they have for a long time. You're hearing the band play live in the studio, but they might as well be performing at the smoky Checkerboard Lounge on Chicago's South Side.
Four of the songs, including the title track, were originally recorded by Little Walter, and the galloping beat of his "I Gotta Go" is a highlight of the album. Other tunes simmer in a minor-key blues dirge, like "All of Your Love" by Magic Sam. Blue & Lonesome also covers Howlin' Wolf ("Commit a Crime"), Little Johnny Taylor ("Everybody Knows About My Good Thing"), Eddie Taylor ("Ride 'Em On Down"), Lightnin' Slim ("Hoo Doo Blues"), and Jimmy Reed ("Little Rain").
The final two tracks are Willie Dixon songs— "Just Like I Treat You" and "I Can't Quit You Baby," the last with lead guitar by Eric Clapton, who happened to be working in the studio next door. The Stones are all in their 70s now (or close—Ronnie Wood is 69), and have returned to the passion for Chicago blues music that first inspired them more than half a century ago.
___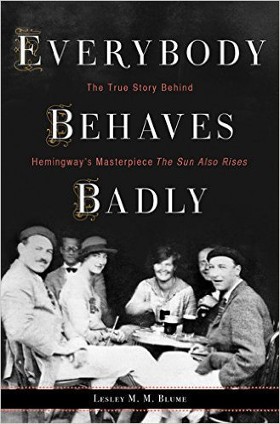 The Opportunist
Also Rises
Dec. 13, 2016
ERNEST HEMINGWAY'S RISE as a writer and public figure seemed fueled as much by his charisma—and all the well-connected supporters who lined up to help him launch his career—as by his talent and innovative writing style.
As Lesley M. M. Blume writes in her deliciously readable book Everybody Behaves Badly: The True Story Behind Hemingway's Masterpiece The Sun Also Rises, (Houghton Mifflin Harcourt,) Hemingway's debut novel and ticket to stardom was a gossipy roman a clef about his own experiences traveling to a drunken fiesta in Spain with a group of friends in 1924. But the reportorial book, essentially non-fiction with just enough invention added to call it fiction, was elevated to high literature by a title taken from the Bible and the opening epigraph "You are all a lost generation" from Gertrude Stein.
Blume's book reveals that for all of his popularity, Hemingway was an opportunist and back-stabber who used his friends, wives and supporters to further his career, and then tossed them aside, and even publicly mocked them, once they had fulfilled their purposes for him. And yet, like those friends, Hemingway's loyal fans and readers can't help liking him, anyway.